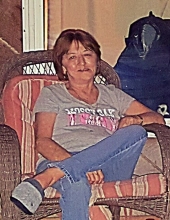 Obituary for Billie Sue Shields
Billie Sue Shields of McKee, KY, was born March 18, 1959 and departed this life September 8, 2018 at St. Joseph East Hospital in Lexington, KY. She was preceded in death by her mother, Helen Foley; her father William Foley; two sisters, Linda Dolson of New York and Anna Cain of Nicholasville.
Billie Sue is survived by her loving husband of 43 years, Stanley Shields. Billie Sue had two sons, Lil Stanley & Sarabeth Shields of McKee, Shawn & Angela Shields of McKee; two daughters, Shelly & James Mays of Lexington, Healina Sizemore of Lancaster. She was blessed with eleven grandchildren, Kelsi & Kelvin Jackson, Darion Heath of Lexington, Stanley Shields Jr., Dakota Shields, Caleb Mink, Brandy Mink, Andrew Johnson, Kaylee Johnson, Destiny Shields and Audrey Shields all of McKee; one great grandson, Kaden Jackson of Lexington; one brother, Mark & Linda Foley of Powell Co; one sister, Jennifer & Melvin Young of Berea. Billie Sue had a whole slew of nieces and nephews. Many friends who became her family. She was loved by all that meet her she will be greatly missed.

Celebration of Life will be held 2:00 PM Saturday, September 15, 2018 at Billie Sue's home, 164 D and M Rd, McKee, KY.